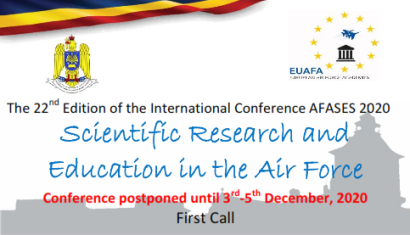 AFASES is a scientific event of reference for the research in the Romanian Air Force, focused on military sciences domain. AFASES conference has reached its 22nd edition. AFASES 2020 is organized under the patronage of the European Air Force Academies (EUAFA). AFASES 2020 is organized to disseminate the academic research of the participants and to indentify the most appropriate ways to spread, promote and render the academic research results.
AFASES 2020 will be structured in three parts: plenary opening; scientific papers presentations on panels; socializing events. AFASES 2020 program will be provided later.
"Military Sciences" panel will be coordinated by "Romanian Military Thinking" Journal/ Defence Staff. A selection of papers will be published within it.
We welcome the participation of professors, researchers, PhD students and practitioners, from Romania and abroad.
'HENRI COANDA' AIR FORCE ACADEMY, 160 Mihai Viteazu St., 500183 BRASOV, ROMANIA
Submission of papers for review – August 28th, 2020.
Notification of paper acceptance – September 25th , 2020.
Confirmation of payment fee – November 27th, 2020.
Submission of camera-ready papers – December 18th, 2020.
Access Conference web page at the following address: http://www.afahc.ro/ro/afases.html
Push button and Select REGISTRATION tab
Enters your email address and chose a password
Marks which conference section the paper addresses
Enters contact information
Enters co-author information
Receives confirmation screen which includes a paper ID and the size of the file uploaded
Receives notification email for acceptance or rejection (when review process is over)
Uploads camera ready version for accepted papers and registration form
Papers will be written in English using the template from the conference web page.
REQUIREMENTS for PARTICIPANTS
Each author has the right to submit maximum 2 (two) papers.
Papers will be written in English, based on template. All the scientific papers will be peer-reviewed by the members of the scientific committee. The best papers will be rewarded and published.