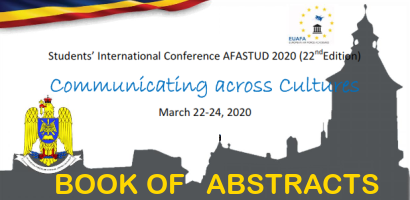 Following the measures taken at national level to prevent and limit possible diseases caused by the new Coronavirus (COVID19), the Management Board of "Henri Coandă" Air Force Academy decided on Monday, March 9, 2020, to cancel the 22nd edition of the Students' International Conference Communicating across Cultures AFASTUD 2020. The proposed papers have already been evaluated and, where appropriate, accepted or rejected. "Henri Coandă" Air Force Academy will publish the abstracts of the accepted papers and send the Book of Abstracts to the institutions of origin. The authors of the papers are free to decide whether and where they will publish their papers. Thank you for your understanding!
Ca urmare a măsurilor luate pe plan naţional de prevenire şi limitarea a eventualelor îmbolnăviri cu noul coronavirus, Consiliul de Administraţie al Academiei Forţelor Aeriene "Henri Coandă" a hotărât luni, 9 martie 2020, anularea desfăşurării celei de-a 22-a ediţii a Conferinţei Internaţionale Studenţeşti Communicating across Cultures AFASTUD 2020. Lucrările propuse au fost deja evaluate şi, după caz, acceptate sau respinse. Academia Forţelor Aeriene "Henri Coandă" va publica rezumatele lucrărilor acceptate şi le va trimite pe adresa instituţiilor de provenienţă. Autorii lucrărilor sunt liberi să decidă dacă şi unde vor publica respectivele lucrări. Vă mulţumim pentru înţelegere!
Papers submitted MUST be supervised by at least one Profesor
Access Conference web page at the following address: http://www.afahc.ro/ro/afastud.html
Push button and Select REGISTRATION tab
Enters your email address and chose a password
Enters paper's title, abstract, uploads file(s)
Marks which conference section the paper addresses
Enters contact information
Enters co-author information
Receives confirmation screen which includes a paper ID and the size of the file uploaded
Receives notification email for acceptance or rejection (when review process is over)
Uploads camera ready version for accepted papers and registration form
Papers will be written in English using the template from the conference web page.
PANELS:
MILITARY SCIENCES. MANAGEMENT & LEADERSHIP

HUMANITIES. SOCIAL SCIENCES

FUNDAMENTAL SCIENCES & ENGINEERING

WEAPONS & DEFENSE TECHNOLOGY

Conference Secretariat
WO Sergiu OBREJA
Inf. Adina DOBRIŢOIU
Inf. Adrian ROTARU
Tel.+40268423421 ext.0160
E-mail: obreja.serjiu@afahc.ro
adina.dobritoiu@afahc.ro
adrian.rotaru@afahc.ro